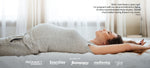 Let's help those feet of yours!
A lot happens to your feet in 9 months! Among the many discomforts women put up with during pregnancy, foot and leg pain are the most common. Natural weight gain and edema (swelling of feet) puts added pressure on feet, knees, and ankles – which can lead to foot pain, knee & back pain, unsightly bunions and Plantar Fasciitis.

Specially designed and award winning MommySteps™ Maternity Insoles combine optimal arch support with a comfortable cradle for your foot. The perfect solution to help alleviate common pregnancy related foot problems!
Testimonials
" I bought these insoles when I was early on pregnant, and I started using them when I was around 5 months pregnant. They do work really well for arch support! As other reviewers stated, you can tell the difference immediately upon switching out your soles. Be careful not to overheat! Love this product. Will recommend to other pregnant friends or future mom friends.'

- Rose Dagonese

"I received my insoles in the mail yesterday and immediately put them in my shoes. I felt an instant different in the way I walked and the way my arch sat up higher. I loved the feeling of these insoles in my shoes and I love how I can put them in flats and running shoes. I am usually a size 8 in shoe and I received the 8.5-9 size and it fit me perfectly!! These are amazing and I have already had a friend interested in buying one as well! I would also like to point out that the customer service that I received was phenomenal. I was treated with respect and the MommeySteps team took the time to understand what I was looking for and made sure I got the best deal I could. He provided great service and I will definitely be coming back next pregnancy! :)"

- Lindsay Walsh

"Best Thing ever! I have both styles and they're the best thing I've had this whole pregnancy. They've essentially eliminated my hip and back pain. I accidentally wore shoes without them today and regretted it about ten minutes into my shopping trip. I've been recommending them to literally every pregnant woman I talk to with hip or back pain. They're a godsend."

- Molly

"They work like a charm...I received these last week and was very impressed with the quality. I put them right into my running shoes and went for a walk. I am very satisfied with the level of comfort these insoles provided. I was getting heel pains before and now thankfully pain free. Highly recommend these. great price, and great customer service."

- Anna Davis

" Fantastic! A friend of mine told me about these and I'm so happy she did! I'm 5 months pregnant and I'm using the blue ones in my sneakers and they make my feet feel great!"

- Samantha Allman

" Feet feel better right away & GREAT customer service! I ordered these in the wrong size (I'd go a size up if you're in between sizes) and wore them for a few days even though they weren't perfect - and my feet ACTUALLY felt better! I have tried other insoles during pregnancy and prior to, and these actually work! Great arch support and they don't crowd your shoe! I contacted customer service about the size not being quite right & got an email & a call soon after saying I would be getting the right size in the mail later this week! Worth every penny and I will be recommending these to all of my pregnant friends!"

- Austin

" First Impressions are AMAZING! I got a pair of these 4 days ago. Out of the package, I was worried that the arch might be too much for my foot. It is a pretty supportive arch support, but I guess that is the point. I have normally been wearing those flimsy Dr. Scholes gel Insoles for my flats at work, but I decided to give these a try. After Heating I can honestly say that these are AMAZING. I was surprised they fit so well into my work flats. My foot sunk and formed perfectly into the warm insole. So far so good. I may try the athletic ones next. I will give these a few more weeks to see how they turn out, but so far they are a game changer. I love how they are washable too. If you are looking for support, this is a good one. Totally helped my lower back as well. No more pain in my swollen feetsies either. I will be curious to see how long they last, at 40 bucks I am hoping a while. Money well spent I think though!"

- Kirsten Beale

" Wish I had these 2 years ago! I'm pregnant with my second child and a friend of mine recommended these insoles. Soooo much better having these in my shoes. I've been wearing them to work and my feet feet great."

- Elana Carillo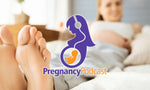 Pregnancy Foot & Back Health
Listen to our favourite "Pregnancy Podcast" episodes that discuss the many issues that can affect your feet and back when you are pregnant.
Listen Now